Current hotel meeting space and event promotions
Hosting your meeting or social event at Kimpton Vero Beach Hotel & Spa becomes an even easier decision when savings and special perks are involved. Come back frequently to see our latest offers.
Spirits Up. Party Down.
Crafted cocktails + seasonal eats…get you ready to mingle. Choose from one of our three holiday party packages when you host your event now through January 31, 2017.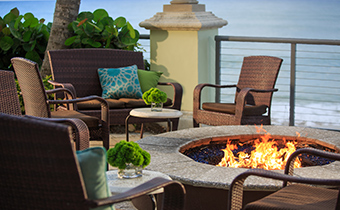 Fall Meeting Perks
Your Fall meeting at Kimpton Vero Beach Hotel & Spa includes unforgettable perks. Enjoy 5% off the master account when you book 20 or more rooms a night + a waived resort fee. You'll also receive 3 stellar perks to top it all off.
Pink Your Perks
This October, join the fight against Breast Cancer when you plan your meeting. Enjoy:
1% donation to Breast Cancer Research when you book 20 rooms or more
Two perks of your choice
AmEx Gift Card
Bonus offer
Small Groups Made Easy
Our definition of a small group is about 6 to 25 guestrooms. Think corporate groups, weddings, reunions, and a girl's getaway. We're ready to help you with your event and even save you up to 30%!