Your boutique hotel room awaits
After a day basking in the Florida sunshine, the casual luxury of our boutique accommodations is a welcome retreat. Ranging from 386 to 1,000 square feet, each of our guest rooms and 1-, 2- and 3-bedroom suites is well appointed with niceties such as sumptuous bedding, luxurious baths with Atelier Bloem amenities, Jerusalem stone flooring and granite countertops. Most have private balconies. Our suites feature modern kitchens, and separate living rooms, ideal for entertaining.
Check Availability Book Direct on our website.
Our Best Rates + Perks. Always.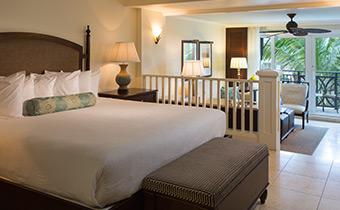 Two Bedroom Studio Suite
745 – 860 square feet
1 King bed
1 Queen bed
1 elegantly appointed bath
Private balcony
Living room
Terrace or garden views
Two Bedroom Suite King/Queen Queen
745 – 860 square feet
1 King bed
2 Queen beds
1 elegantly appointed bath
Living room
Private balcony
Terrace or garden views
One Bedroom Suite
1000 square feet
1 King bed
Private balcony
Full kitchen with Fill the Fridge amenity (20% service fee)
Terrace or garden views
Lanai King Studio Suite
590 square feet
1 King Bed
Ground floor walk out
Separate living room with sleeper sofa
Pool View
Lanai Queen Queen Studio
590 square feet
1 Queen Beds
Ground floor walk out
Separate living room with sleeper sofa.
Pool View
King Studio
565 – 590 square feet
1 King bed
Private balcony
Separate living room
Terrace or garden views
Studio Queen Queen Suite
565 – 590 square feet
2 Queen beds
Private balcony
Separate living room
Terrace or garden views
Premier King Room
500 square feet
1 King bed
Private balcony
Spacious desk
Luxury Atelier Bloem amenities
Microwave & mini bar
Interior Deluxe Room, 2 Queen Beds
No view, no balcony
386 square feet
2 Queen beds
Spacious desk
Luxury Atelier Bloem amenities
Microwave & mini bar